Lionfish's VIP Tasting Experience by Chef Steven Ruiz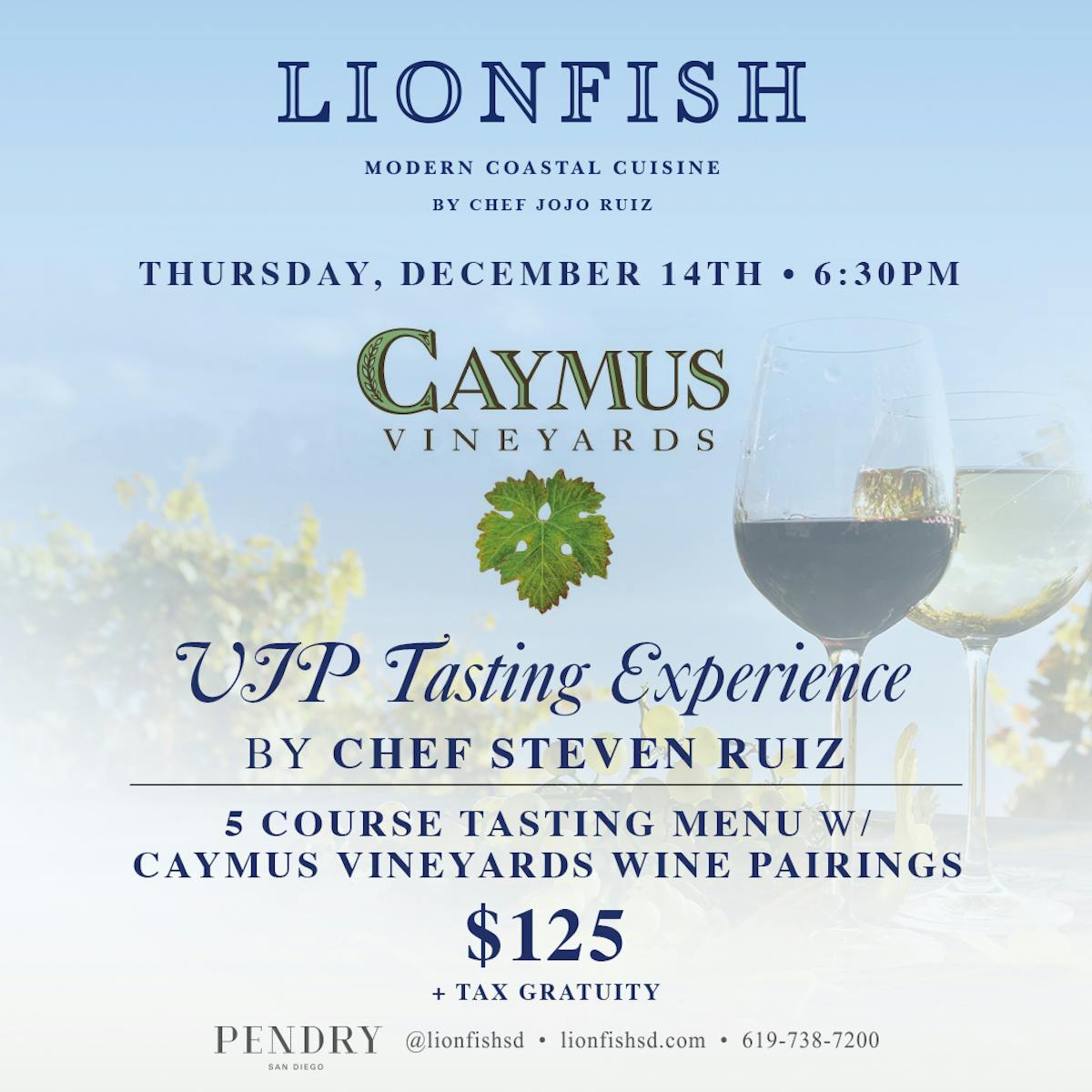 An Evening of Elegance: Lionfish's VIP Tasting Experience
Lionfish, the crown jewel of San Diego seafood restaurants located in the heart of the Gaslamp Quarter, is thrilled to announce an extraordinary dining event. On December 14th from 6:30 to 9:30 pm, we are hosting a VIP Tasting Experience artfully curated by our renowned Head Chef, Steven Ruiz. Prepare to embark on a five-course culinary journey, where each dish is expertly paired with exquisite wines from Caymus Vineyards.
A Culinary Masterpiece in Five Acts
Amuse
Kusshi Oyster, Apple Cider Mignonette, Asian pears, Caviar
Beverage: Emmolo Sparkling
First Course
Spicy Tuna Tartare Cigar, Black Sesame Seed Ash
Beverage: Mer Soleil Reserve Chardonnay
Second Course
Short Rib Tortellini, Onion Miso Purée, Balsamic Onions, Black Garlic Molasses, Garlic Chips
Beverage: Red Schooner Transit
Entree
Snake River Farm New York Strip, Poached Lobster, Spiced Pumpkin Seeds
Beverage: Caymus Cabernet Sauvignon
Dessert
Matcha Mascarpone Mousse, Espresso Sponge Cake, Matcha Dust
Beverage: Caymus Suisun Grand Durif
An Exclusive Evening of Culinary Delights
This exclusive VIP Tasting Experience offers a limited number of seats—just 30, to be exact. Priced at $125, which includes tax and gratuity, this is your opportunity to savor the best seafood and gourmet dishes that downtown San Diego has to offer. The carefully crafted menu by Chef Steven Ruiz is a testament to his culinary prowess and dedication to the art of fine dining.
Tickets for this luxurious dining event are available for purchase on the Lionfish website. We recommend acting swiftly, as these seats are highly coveted and sure to sell out quickly. Don't miss your chance to be a part of this unforgettable evening.
Your Host: Chef Steven Ruiz
Chef Steven Ruiz, the visionary behind this exceptional dining experience, is the head chef at Lionfish. With a passion for creativity, innovation, and a deep love for seafood, Chef Ruiz has made Lionfish a top destination for those seeking the best seafood and sushi in the Gaslamp Quarter and downtown San Diego. His dedication to culinary excellence is reflected in every dish he creates, making this dinner a true culinary masterpiece. The VIP Tasting Experience by Chef Steven Ruiz is not just a meal; it's a journey through flavors, textures, and aromas. Each course is carefully designed to provide a symphony of taste sensations that will leave your palate enchanted.
Lionfish: A Gem in the Gaslamp Quarter
Lionfish is not just a restaurant; it's an experience. As one of the best seafood restaurants in San Diego, we take pride in sourcing the freshest ingredients, ensuring that every dish we serve is a masterpiece. Our commitment to offering the finest seafood and sushi in the Gaslamp Quarter is unwavering.
When it comes to seafood in the Gaslamp Quarter, Lionfish stands at the pinnacle. Our menu features a wide array of seafood dishes, from the finest oysters to mouthwatering lobster. Whether you're a seafood connoisseur or new to the delights of the ocean, Lionfish promises an unforgettable experience.
Secure Your Seat
Join us on December 6th for an evening that promises to be unforgettable. Immerse yourself in the world of culinary artistry as Chef Steven Ruiz and the team at Lionfish present a VIP Tasting Experience that will be the highlight of your year. Book your seat today and prepare to indulge in the extraordinary.
To secure your spot at this exclusive event, make a reservation on the Lionfish website. Our tables are in high demand, and this unique dining experience is sure to be a sell-out. We look forward to welcoming you to Lionfish for this remarkable VIP Tasting Experience.
Lionfish is your destination for the ultimate VIP Tasting Experience on December 6th. With Chef Steven Ruiz at the helm, this evening promises the best seafood, fine dining, and wine pairings in downtown San Diego. Book your seat today and prepare to be captivated by a culinary journey like no other.