New San Diego Seafood Creations at Lionfish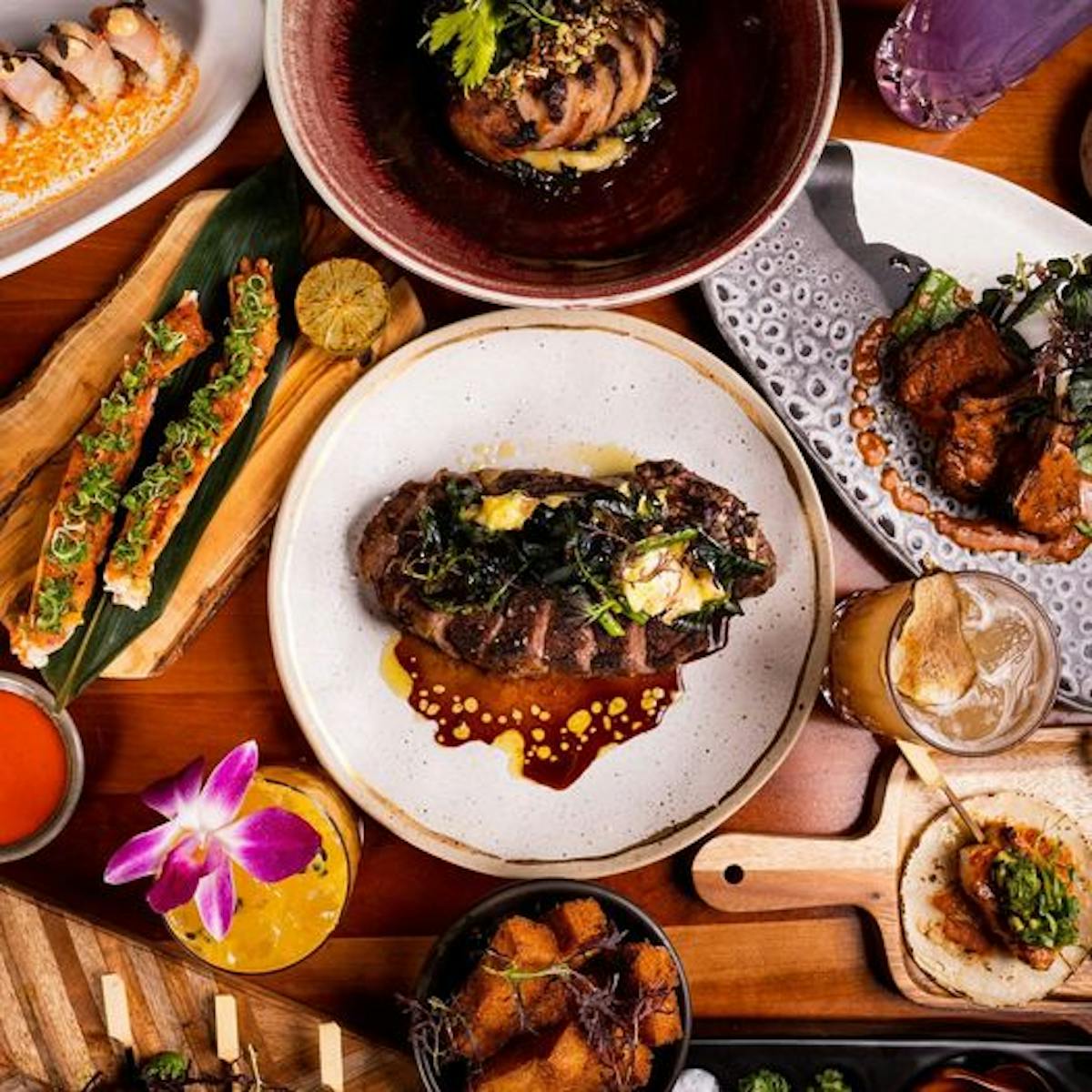 We don't know what got into us, but we just had to make some changes. "Out with the old, and in with the new!" we say. But don't worry,..
NEW SAN DIEGO SEAFOOD CREATIONS AT LIONFISH
We don't know what got into us, but we just had to make some changes. "Out with the old, and in with the new!" we say. But don't worry, we're not that dramatic. We've kept the classics in rotation, but our Executive Chef JoJo Ruiz was itching to try out some new creations, and if we didn't trust him then he wouldn't be running the show, now would he?
WHAT YOU NEED TO KNOW
When does the new menu launch?: NOW!
Are there gluten free items?: You better believe it. And to make things easy, we mark the menu for you just so you're sure.
What are your hours these days?: We are open daily at 4 pm. Saturday and Sunday start an hour later at 5 pm, and our happy hour is from 4-6 pm Monday-Friday!
What am I punching into my GPS? 435 Fifth Ave, San Diego, Ca 92101
Are reservations required? Reservations are not required, but highly encouraged. You don't want to roll in at the last minute and not have a table waiting for you, and they fill up fast!
ENOUGH TALK, WHAT'S FOR DINNER?
Let's get right into some of the new features on the menu, and then you can drive on down and taste it for yourself! Make sure you bookmark this page, because you're going to make your way to Lionfish before you even finish reading it, it's THAT good! We're going to highlight the new items, and you're welcome to check out the full menu on our main site!
ROBATA –
Bacon Wrapped Bacon "BLT" – Sriracha Glaze, Tomato Jam, Avocado, Red Mustard Frill
BAD BUNNY –
Bad Bunny – Bester "Beluga" Caviar, Everything Spice Cream Cheese, Belinis
FRESH CATCH –
Robata Diver Scallops – Pork Belly, Roasted Mushrooms, Komatsuna Greens, Shiitake Bacon, Shiitake Tentsuyu Sauce, Negi
Broiled Big Glory Bay Salmon – Corn Butter Sabayon, Chard Leeks, Corn, Crispy Potato, Puffed "Popcorn"
Spaghetti Lobster "Homard" – 1/2 Lobster, Nueske Bacon Lardon, Dashi Cognac Cream, Chives
"Angry" Whole Grilled Snapper – Thai Basil, Citrus, Fermented Chili, Garlic Butter Sauce, Grilled Flatbread
ENTRÉE
Truffle Fried Chicken And Waffles – Korean Hot Chicken, Mochi Waffles, Truffle Butter, House Hot Sauce, Smoked Maple
8 Oz. Center Cut Filet – Blistered Tomatoes, Demi Glacé, Arugula
18oz Prime Kc Cut Striploin "Oscar" – Blue Crab Crusted, Butter Braised Asparagus, Tarragon Bearnaise
14oz Kurobuta Pork Chop – Braised Green, Cherry Bomb peppers, Andouille, Crispy Fingerling Potato, Hot Honey Mustard Sauce
Wild Mushroom & Potato Gnocchi – Wild Mushroom, California Seaweed, Humboldt Fog, Dashi Pan Sauce
36oz Prime Tomahawk Chop – Crispy Potatoes and Onions, LF1, Horsey Ranch, Koji Chimichurri
SPECIALTY ROLLS –
Geisha – Kampachi, Spicy Tuna, Avocado, Bubu Arare, Gobo, Shiso, Red Kosho Aioli, White Yuzu Ponzu
Bezerk – Shrimp Tempura, Avocado, OOBA, Salmon Belly, Brown Butter Aioli, Citrus, Negi, Sweet Soy
Surf And Turf – Seared Wagyu, Avocado, Maine Lobster, Grilled Asparagus, Garlic Ponzu, Crispy Shallots
The Goddess – Avocado, Marinated Mushroom, Shiso, Tempura Asparagus, Gobo, Cucumber, Sweet Soy
El Maniakz – Spicy Baja Crab, Soft Shell Crab, Tajin Seared Albacore, Avocado, Lemon, Macha Ponzu, Chipotle Aioli, Cilantro
Bonecrusha – King Crab, Tuna Toro, Caviar, Crispy Shoe Strings, White Truffle Shoyu, Bone Marrow Butter
WE'LL SEE YOU SOON!
We hope you stop in with friends, family, or a date, and have some of the best seafood and sushi in San Diego. While you're at it, have a drink or two from our specialty cocktail program. Can you think of a better way to spend time with your loved ones over a seafood dinner in SanDiego? Or if you're just tagging along without an appetite for seafood, our Roasted Jidori Chicken will exceed all expectations. There's something for everyone, and there's plenty on our new menu to go around.
ABOUT LIONFISH
Lionfish is as social as the bustling neighborhood that surrounds it. Located in the Pendry San Diego in the city's trendy Gaslamp Quarter sits Lionfish, the dynamic, design-driven hotspot on 5th Avenue that honors the essence of the city's lifestyle. The restaurant offers modern coastal cuisine that features fresh-catch cooking and seasonal ingredients, all prepared with innovative twists. The menu, featuring both sustainable seafood and prime meats, toys with guest's tastebuds with its casual, yet complex offerings. The light, fresh appetizers are perfect for sharing. A private dining area is available for a more intimate experience. A lively, yet elegant environment within the two-level space, Lionfish is not only a culinary destination, but it's also a home for hand-crafted cocktails, all of which are carefully prepared by high-end mixologists in the restaurant's rambunctious bar.