Spooky Delights of Lionfish's Halloweekend "Dreadful Drinks"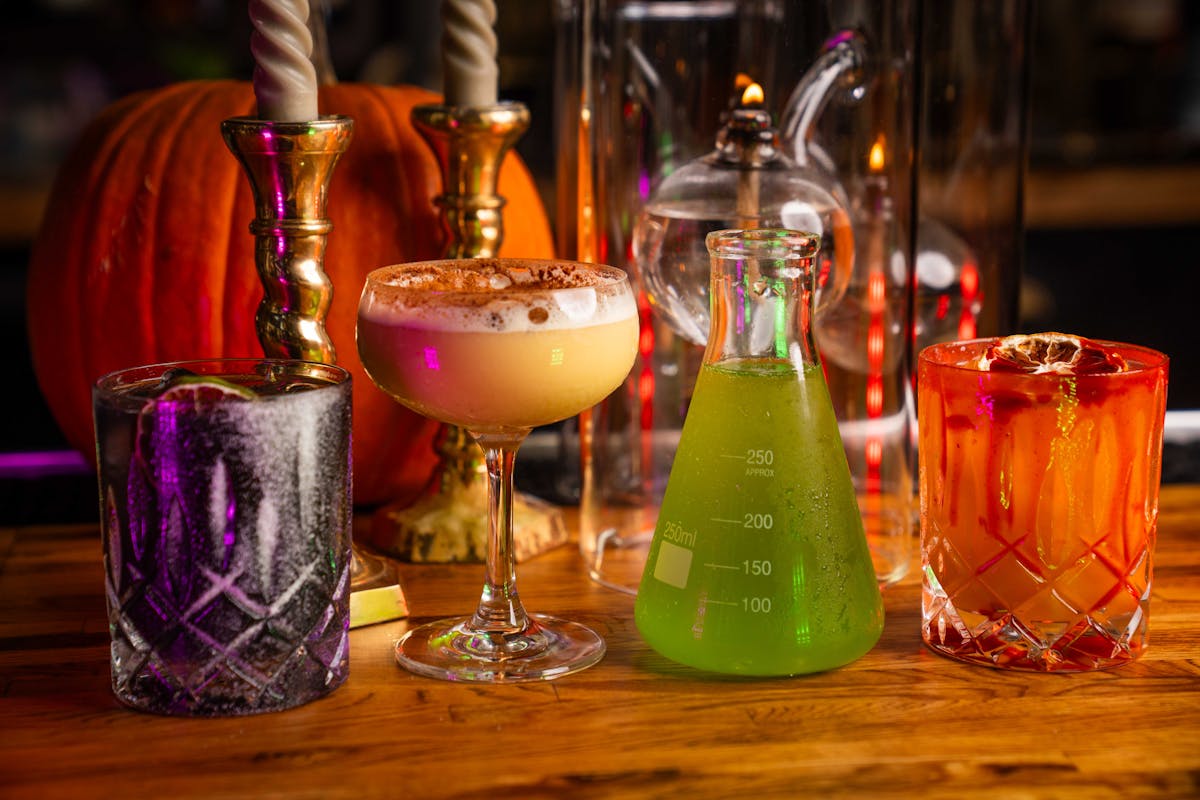 Unveiling the "Dreadful Drinks" at Lionfish
Lionfish, renowned for serving the best seafood in San Diego's Gaslamp Quarter, has something thrilling brewing this Halloweek end. Step into our eerie and enchanting world as we present the spine-tingling "Dreadful Drinks" cocktail menu. These spooky and swanky concoctions are sure to send shivers down your spine while you indulge in the finest seafood and sushi in downtown San Diego.
The Alluring Lineup
Pretty Poison
Ingredients: Sipsmith Gin, Midori, Cucumber, Honeydew, Lemon, Simple Syrup
Description: A green elixir that's as enchanting as it is delicious. With a touch of Midori and a splash of Sipsmith Gin, this potion is perfect for those who dare to sip.
Black Widow
Ingredients: Activated Charcoal, Solento Reposado, Dos Hombres Mezcal, Agave, Lime, Peach Bitters
Description: Unleash your inner arachnid with the Black Widow. Activated charcoal lends it an inky hue, while the mix of Mezcal and peach bitters adds a sweet and smoky twist.
The Bite
Ingredients: Casamigos Reposado, Watermelon Juice, Pomegranate Juice, Agave, Lime Juice, Chamoy
Description: Sink your teeth into 'The Bite.' With Casamigos Reposado and a bite of watermelon, it's the perfect balance of sweet and spicy.
PSM (Pumpkin Spiced Martini)
Ingredients: Belvedere, Mozart Pumpkin Spiced Liqueur, Housemade Spiced Syrup, Oat Milk
Description: Fall for the PSM, a pumpkin spiced martini that's as velvety as it is haunting. Belvedere vodka blends seamlessly with the warmth of pumpkin spices.
When and Where to Sip the Spooky Elixirs
These chilling cocktails are available exclusively during Halloweekend, from October 26th to 31st, at Lionfish. Located in the heart of the Gaslamp Quarter, Lionfish is not only the best seafood restaurant in San Diego but also a prime destination for those seeking the finest sushi in downtown San Diego.
Hauntingly Delightful San Diego Seafood and Sushi
At Lionfish, our commitment to serving the best seafood is unwavering. We source our seafood from trusted providers, ensuring that each dish is as fresh as it is delectable. Our talented chefs craft every dish with precision, offering you an unparalleled seafood experience.
When it comes to seafood in San Diego, Lionfish sets the gold standard. Our menu boasts a variety of seafood dishes, from fresh oysters to succulent lobster, and everything in between. Whether you're a seafood aficionado or just looking to explore the exquisite flavors of the ocean, Lionfish is the ultimate destination.
Seafood might be our specialty, but we don't stop there. Lionfish is also known for its exceptional sushi in Gaslamp. Our sushi chefs are masters of their craft, and they artfully prepare each piece of sushi to perfection.
When it comes to sushi in San Diego, Lionfish is the go-to spot for sushi enthusiasts. Our menu is a fusion of traditional and modern sushi, featuring an array of rolls, sashimi, and nigiri. With the freshest ingredients and expert craftsmanship, our sushi offerings are simply irresistible.
Sip and Savor in Downtown San Diego
Lionfish is strategically located in the heart of downtown San Diego at The Pendry, making it the ideal spot for those seeking downtown San Diego sushi. Our restaurant provides a blend of contemporary aesthetics and a welcoming ambiance, making it the perfect venue for your Halloweekend celebrations.
Lionfish's commitment to providing exceptional seafood and sushi extends to our downtown San Diego location. We take pride in being a culinary gem in the city, serving up delicacies that satisfy even the most discerning palates.
Make a Reservation
To ensure you don't miss out on these tantalizing cocktails and the best seafood and sushi in San Diego, we recommend making a reservation at Lionfish. Our tables fill up quickly, especially during Halloweekend, so securing your spot is essential.
Our "Dreadful Drinks" are the highlight of Halloweekend at Lionfish. These spooky and swanky cocktails are not to be missed. Whether you're celebrating with friends or enjoying a romantic evening, Lionfish offers an experience that is both sophisticated and spine-tingling. With our commitment to culinary excellence and an ambiance that is both alluring and haunting, Lionfish is the ultimate destination for your Halloweekend festivities. Don't let this experience pass you by - make your reservation today!