Don't Forget About Happy Hour at Lionfish!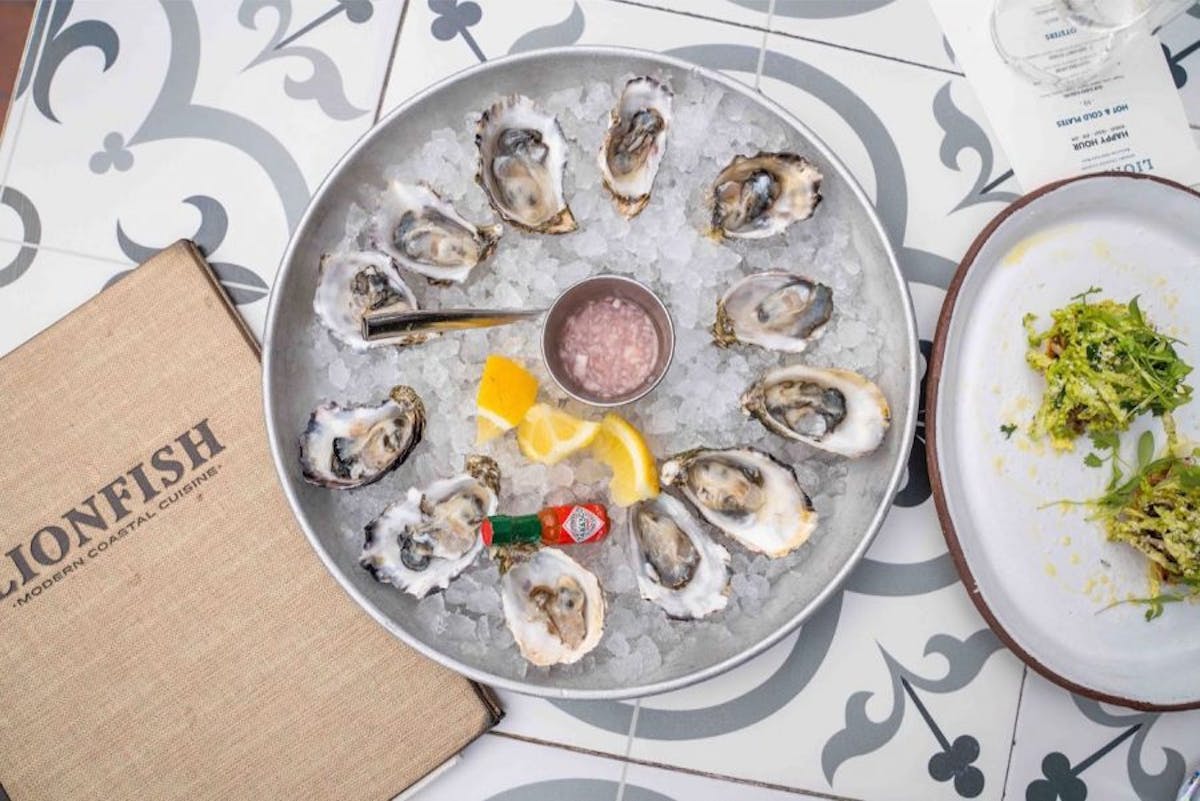 With the holiday hustle and bustle upon us, it's really easy to forget to slow down and enjoy the finer things. Sure we've got some great..
DON'T FORGET ABOUT HAPPY HOUR AT LIONFISH!
With the holiday hustle and bustle upon us, it's really easy to forget to slow down and enjoy the finer things. Sure we've got some great Christmas and New Year's Happenings, but let's not forget that Happy Hour is a year round endeavor! Or should we say Happy Hours! You heard us correctly, from Monday-Friday, 4-6pm, the world is your oyster! In our case your $1 Oyster. But there's so much more we can talk about than that. Whether you're looking for an early dinner before taking it to the city, or turning in early and looking for a light and easy way to end the day, we've got you covered. Let's break it down for you. We're not just the hottest spot for Sushi in San Diego, we mix up a mean drink too!
WHAT YOU NEED TO KNOW
When?: Monday-Friday 4-6 pm
Where?: Lionfish San Diego, 435 Fifth Ave, San Diego, CA 92101
Deals?: $1 Oysters, $6 Drafts, $8 Wine by the glass, $10 Cocktails, and $9 Cold and Hot Plates
Reservation?: Reservations are not required, but strongly recommended !
LET'S GET INTO THESE DEALS
Let's start with the $1 Oysters and take it from there. We're talking about East Coast Oysters, and we have plenty. It doesn't matter if you are flying solo on this, or if you're sharing. Oysters are $1 each from 4-6pm. We are the best sushi restaurant in San Diego too, so if your stay runs past 6pm, we strongly recommend checking out our full dinner menu for some of our Speciality Nigiri Flights!
Moving on to the $8 Hand Roll, we have lots to talk about. Your choices range from Spicy Crispy Shrimp (green onions, spicy aioli, soy paper), Spicy Tuna (spicy chili sauce, cucumber, kaiware), Baked Crab (crispy onions, spicy aioli), and Spicy Salmon (cucumber, avocado).
If you're looking for appetizers or shareables, your options are $9 for Kale Salad (carrot, sesame seed, avocado, pickled shallots, tahini dressing), Crispy Rock Shrimp (gochujang, japanese style aioli), and No Way! Vegan Sliders (vegan 1,000 island on sesame seed buns).
YEAH BUT IT'S HAPPY HOUR, LET'S TALK ABOUT DRINKS!
You're going to want to consult your bartender or server on beers, because it's the bartender's choice beer for $6. Don't worry, though. Our crew has great taste, and will not disappoint.
If cocktails are more your speed, our specialty and & select spirits start at $10. Just talk to your server, and they'll pair your bites with just the right thing.
WE'LL BE HERE!
We know there are so many seafood choices in San Diego, and you're going to want to explore. We pride ourselves on providing the highest quality coastal cuisine you could find, and we hope to reel you in with our Happy Hour offerings. You only live once, and if you want the world to be your oyster, we're the best starting place for you to grab a seat and have a couple of drinks.
ABOUT LIONFISH
Lionfish is as social as the bustling neighborhood that surrounds it. Located in the Pendry San Diego in the city's trendy Gaslamp Quarter sits Lionfish, the dynamic, design-driven hotspot on 5th Avenue that honors the essence of the city's lifestyle. The restaurant offers modern coastal cuisine that features fresh-catch cooking and seasonal ingredients, all prepared with innovative twists. The menu, featuring both sustainable seafood and prime meats, toys with guest's tastebuds with its casual, yet complex offerings. The light, fresh appetizers are perfect for sharing. A private dining area is available for a more intimate experience. A lively, yet elegant environment within the two-level space, Lionfish is not only a culinary destination, but it's also a home for hand-crafted cocktails, all of which are carefully prepared by high-end mixologists in the restaurant's rambunctious bar.