Christmas Eve Specials at Lionfish Coastal Cuisine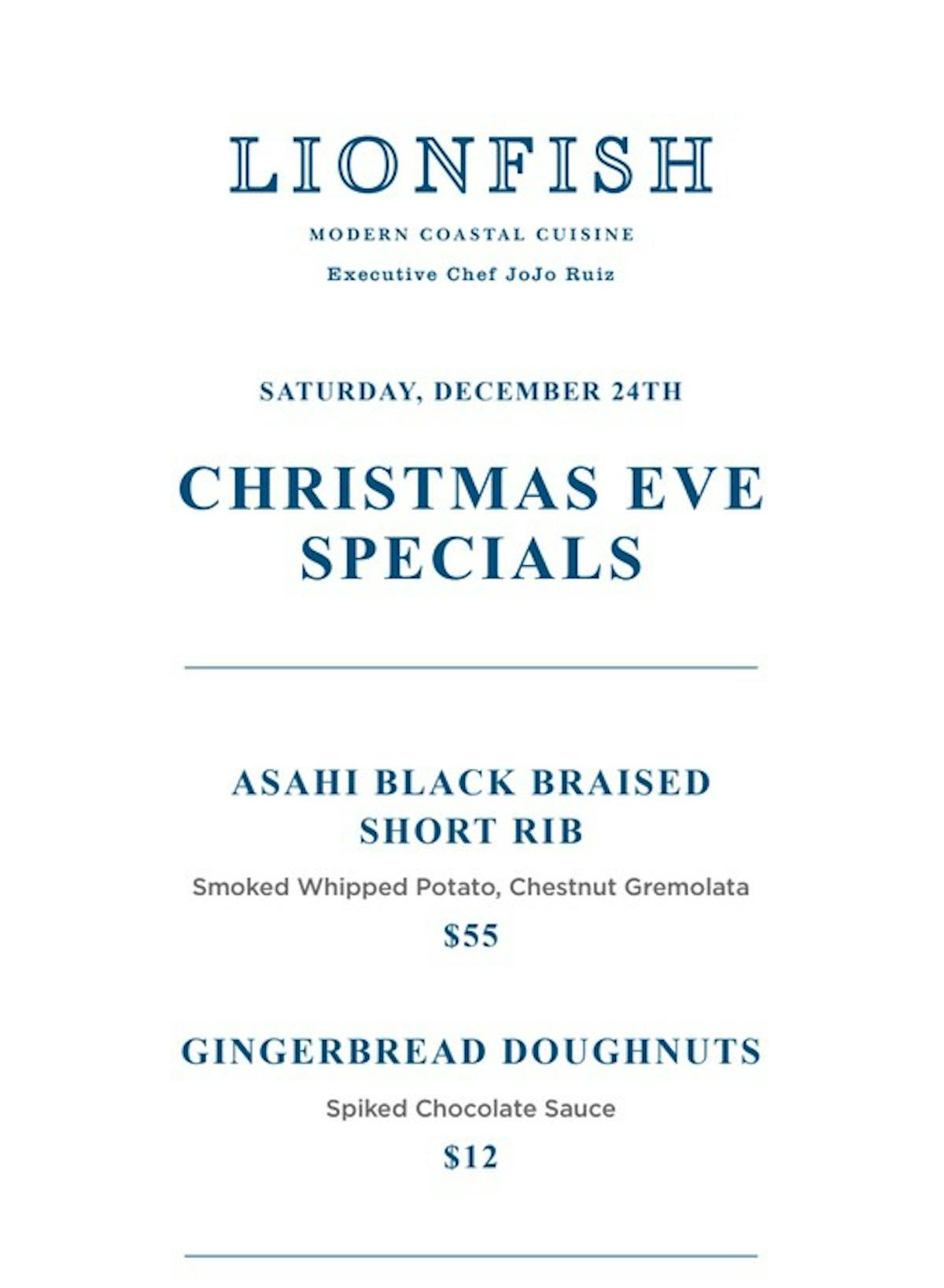 Christmas Eve is often characterized by the usual hustle and bustle of the holidays, and we're all for it! Especially if you haven't..
CHRISTMAS EVE SPECIALS AT LIONFISH COASTAL CUISINE
Christmas Eve is often characterized by the usual hustle and bustle of the holidays, and we're all for it! Especially if you haven't figured out what you're going to do for Christmas Eve dinner! Maybe the in-laws arrived earlier than usual this year, and you need to get out of the house for the evening, or maybe you just can't stomach another trip to the busy grocery store before the holiday! Whatever the reason, it is the season, and we're going to do Christmas Eve San Diego Style!
So if you're looking for some holiday cheer in the form of our excellent Christmas Eve specials, then look no further than Lionfish Coastal Cuisine!
WHAT YOU NEED TO KNOW
Where: 435 Fifth Ave, San Diego CA, 92101
When: December 24th, Christmas Eve.
Reservations: Tables are filling up fast, so make sure you reserve one!
THE SPECIALS
Our full menu may already have what you're looking for, but the specials are what will set us apart this Christmas Eve! Let's get into it! We may be the best Seafood restaurant in San Diego, but we whip up a mean plate of short ribs as well!
Asahi Black Braised Short Rib – smoked whipped potato, chestnut gremolata
And what's dinner without something sweet to seal the deal?
Gingerbread Doughnuts – spiked chocolate sauce
HOW ABOUT A DRINK?
You've been running around all month getting ready for the holidays, and with the finish line fast approaching, what better way to relax than have a cocktail with those you care about the most?
Our craft cocktails will not only take your tastebuds on an adventure, they'll have you feeling pretty good too!
DANTE'S PEAK- ACTIVATED CHARCOAL, CASAMIGOS REPOSADO, EL SILENCIO MEZCAL, AGAVE, LIME, PEACH BITTERS
Otc: Over The Counter – Green Tea Infused Toki Japanese Whisky, Makers Mark, Apple Brandy, Ginger, Honey, Lemon
HOT IN JALISCO – HABANERO INFUSED DON JULIO BLANCO, HOUSE MADE POMEGRANATE SYRUP, GRAPEFRUIT, LIME
Rice-Paper-Scissors – Hendrick's Gin, Junmai Ginjo Saké Pimm's Mix, Lemon, Cucumber, Ichimi Togarashi Syrup
The Dirty Maytag… How Dirty Are You? – Titos, Dirty Sue Olive Juice, Shaken Or Stirred
In Clique Fashion – Clique's Jack Single Barrel Reserve, Demerara, House Bitters
ABOUT LIONFISH
Lionfish is as social as the bustling neighborhood that surrounds it. Located in the Pendry San Diego in the city's trendy Gaslamp Quarter sits Lionfish, the dynamic, design-driven hotspot on 5th Avenue that honors the essence of the city's lifestyle. The restaurant offers modern coastal cuisine that features fresh-catch cooking and seasonal ingredients, all prepared with innovative twists. The menu, featuring both sustainable seafood and prime meats, toys with guest's tastebuds with its casual, yet complex offerings. The light, fresh appetizers are perfect for sharing. A private dining area is available for a more intimate experience. A lively, yet elegant environment within the two-level space, Lionfish is not only a culinary destination, but it's also a home for hand-crafted cocktails, all of which are carefully prepared by high-end mixologists in the restaurant's rambunctious bar.