Celebrate Thirsty Thursday with Sake Bombs!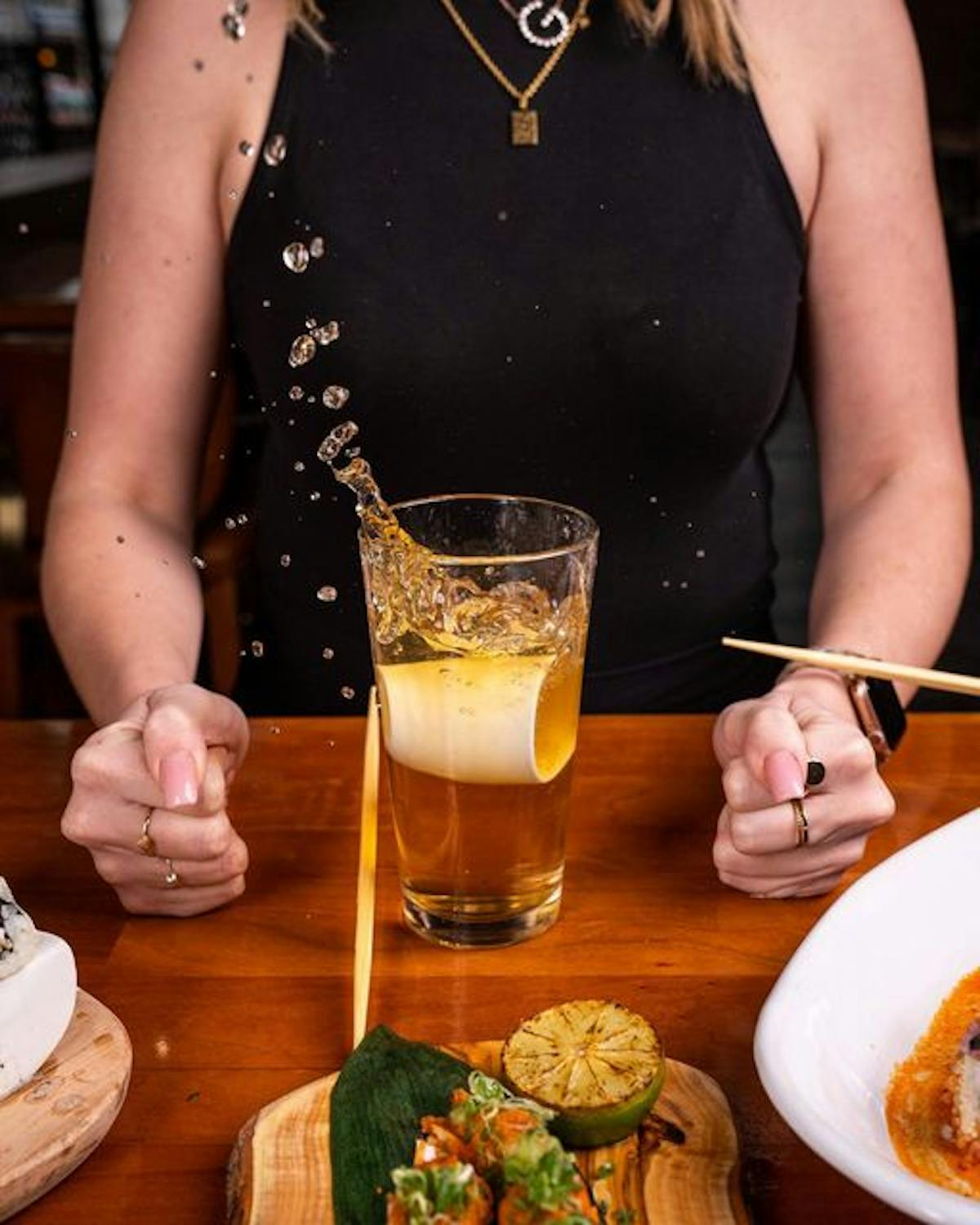 There are 52 Thursdays every year, and how you choose to spend them is ultimately up to you… but we wouldn't be doing our due diligence..
CELEBRATE THIRSTY THURSDAY WITH SAKE BOMBS!
There are 52 Thursdays every year, and how you choose to spend them is ultimately up to you… but we wouldn't be doing our due diligence if we didn't tell you about Sake to Me Thursdays! We know that when you think "San Diego Sushi," the first place that comes to mind is Lionfish Coastal Cuisine. And you're not wrong, but did you know that we have an intimidating Sake selection? And what's more, we have our Sake to Me Thursdays to look forward to. Yeah, we have a wide selection of Junmai and Nigori on our menu, but our secret menu only makes appearances on Thursday!
So what are you waiting for? We've got the drinks, the food, the atmosphere, and on Thursdays, the best priced Sake in San Diego!
WHAT YOU NEED TO KNOW
Where: 435 Fifth Ave, San Diego, CA 92101.
When: Every Thursday, 5pm!
Reservations?: Reservations are not required, but highly recommended!
Specials?: ½ off select bottles of Sake. Be sure to check with your server!
OKAY, LET'S GET INTO THE SAKE
Sushi and Sake… name a more iconic duo! All in one place too! We're going to give you a quick verbal sampler here, but when in doubt, talk to your server. Because fine Sake is just like fine wine. You may want to try out different pairings.
JUNMAI
Kibo – A light-to-medium bodied sake with aromatic and floral honey notes balanced with hints of almond and a dry finish.
Cocoo – Sweet and tangy sake that can enjoyed like wine. Lychee and tropical fruit on the nose and pallet.
Ippin-Ibaraki – Electric nose filled with dried fruit, leaves, earthy elements, peach and chestnuts aromas
JUNMAI GINJO
Sho Chiku Bai – Delicate, dry and silky smooth. Rich flavor with fruity aromas of an apple bouquet
Heavensake Sake Baby – Floral with notes of Iris and Jasmine flowers followed by fruity notes of pears $ white plum
Pure Dawn – Hints of orange peel and light floral notes with an underlying minerality. Fresh and well structured, with subtle notes of pear and Fuji apple.
JUNMAI DAIGINJO
SOTO – Bright pear and hints of green apple with an underlying minerality. Delicate structure, with hints of fresh orange peel and cantaloupe.
Momokawa 'Shizuku' – Elegance of refreshing floral notes of jasmine and orange blossom and savor a hint of vanilla sweetness in the extra-long finish.
Murai Family, Nigori Genshu "Geisha" – Mellow with flavors of lychee and melon, paired with slight natural sweetness of Yamada Nishiki rice, complemented by subtle notes of white flowers and apricot.
NIGORI
Pure Snow – Melon with notes of cucumber and a hint of pear. Powerful flavor with distinctive texture, accompanied by notes of ginger, Asian pear, and cantaloupe.
Snow Maiden Junmai Nigori – Bright and fresh with lovely fruity and rice flavor combination. Hints of honeydew, raw pumpkin, and radish with a creamy texture and fully body.
Murai Family, Nigori Gensgu "Geisha" – Smooth and creamy with confectionery aromas, sweet rice flavors, hints of pineapple, coconut and vanilla. Bold and hearty sake bottled at cask strength (20% ABV)
ABOUT LIONFISH
Lionfish is as social as the bustling neighborhood that surrounds it. Located in the Pendry San Diego in the city's trendy Gaslamp Quarter sits Lionfish, the dynamic, design-driven hotspot on 5th Avenue that honors the essence of the city's lifestyle. The restaurant offers modern coastal cuisine that features fresh-catch cooking and seasonal ingredients, all prepared with innovative twists. The menu, featuring both sustainable seafood and prime meats, toys with guest's tastebuds with its casual, yet complex offerings. The light, fresh appetizers are perfect for sharing. A private dining area is available for a more intimate experience. A lively, yet elegant environment within the two-level space, Lionfish is not only a culinary destination, but it's also a home for hand-crafted cocktails, all of which are carefully prepared by high-end mixologists in the restaurant's rambunctious bar.